Regular price
$2,350.00
Sale price
$1,699.00
Unit price
per
⇩ MSRP
Sold out
Share this find
This propane freestanding pizza oven is also available in a propane countertop / build-in version, a gas countertop / build-in version, & a gas freestanding version.
SUMMERSET™ is based in Huntington Beach, California, and they manufacture some of the most innovative stainless steel outdoor kitchen products on the market today! When it comes to pizza ovens, you simply will not find a better stainless steel pizza ovens at the "below $2,000" price point than the ones made by SUMMERSET™. They are stainless steel from top to bottom and include a lifetime manufacturer's warranty.
About the SUMMERSET™ Freestanding Propane Pizza Oven

Overall Dimensions

Width 54.2"
Depth 25.5"
Height 58.5"
Weight 154 Lbs
Product Resources
Detailed Specifications

Class: Premium
Fuel Type: Propane
Pizza Count: 3
Configuration: Freestanding on casters
Exterior Material: Stainless Steel (304 Grade)
Max Temperature: 450° F
Primary Color: Silver
Total BTUs: 16000
Number of Burners: Single Burner
Cooking Grate Material: Plated Steel
Cooking Grid Dimensions: 19 7/8" X 19 3/16"
Total Cooking Area: 1143 Sq. Inches
Grill Lights: Internal
Built-In Thermometer: Yes
Side Shelves: Yes (2)
Door Material: Stainless Steel
Interior Material: Stainless Steel
Chimney Material: Stainless Steel
Chimney Height: 6 3/4"
Burner Material Stainless Steel
Cart Material: Stainless Steel
Manufacturer's Description
Constructed of 304 stainless steel for longevity and durability
Large oven capacity cooks pizza up to 14-inches in size
Full view front window and temperature gauge for precise cooking
Three cooking racks offer 1,143 total square inches of versatile cooking space
Includes food safe pizza stone and wood chip smoker box to add extra flavor
Add a little versatility to your outdoor cooking experience with the SUMMERSET™ propane pizza oven. This freestanding pizza oven will give your guests something to talk about. The exterior is double-walled with air insulation.
The outer wall is made of 304 stainless steel and the interior wall is high-temperature enamel-coated steel.
With three removable, high-temperature enamel-coated steel cooking racks, the possibilities are endless. Each of the three racks is 19.17" by 19.88" giving you 381 square inches per rack for a total of 1,143 square inches of cooking area.
The large oven capacity allows you to bake pizzas, bread, desserts, or even a turkey up to 20 Lb.
The included pizza stone is 15" (diameter) giving you room to bake pizzas up to 14".
The oven features a full view front window and built-in halogen lights that allow you to easily view the temperature gauge or monitor the baking process.
A heat diffuser over the 16,000 BTU circular burner evenly distributes heat for the perfect cook. The low-temperature range is approximately 200-250° depending on environmental conditions.
The built-in drip tray makes cleaning a breeze and a heat resistant handle on the hood keeps the grip cool for safe oven access.
Exterior constructed of 304 stainless steel, this pizza oven is sure to last.
Interior dimensions: 19.88" W, 19.17" D, 9.44" H (to sidewall corner), 13.77" H (to the middle of the dome)
SUMMERSET™ Pizza Ovens Lifetime Warranty
SUMMERSET™ pizza ovens have a lifetime warranty against any defects in the manufacturing & workmanship on the construction, cooking grates, burners, burner covers, valves, & temperature gauge. Electrical and all other parts & components are covered for three years (labor not included). Registration form must be submitted online within 30 days of the purchase date to validate the warranty. Refer to the manufacturer's manual that comes with your pizza oven for full warranty details.
View full details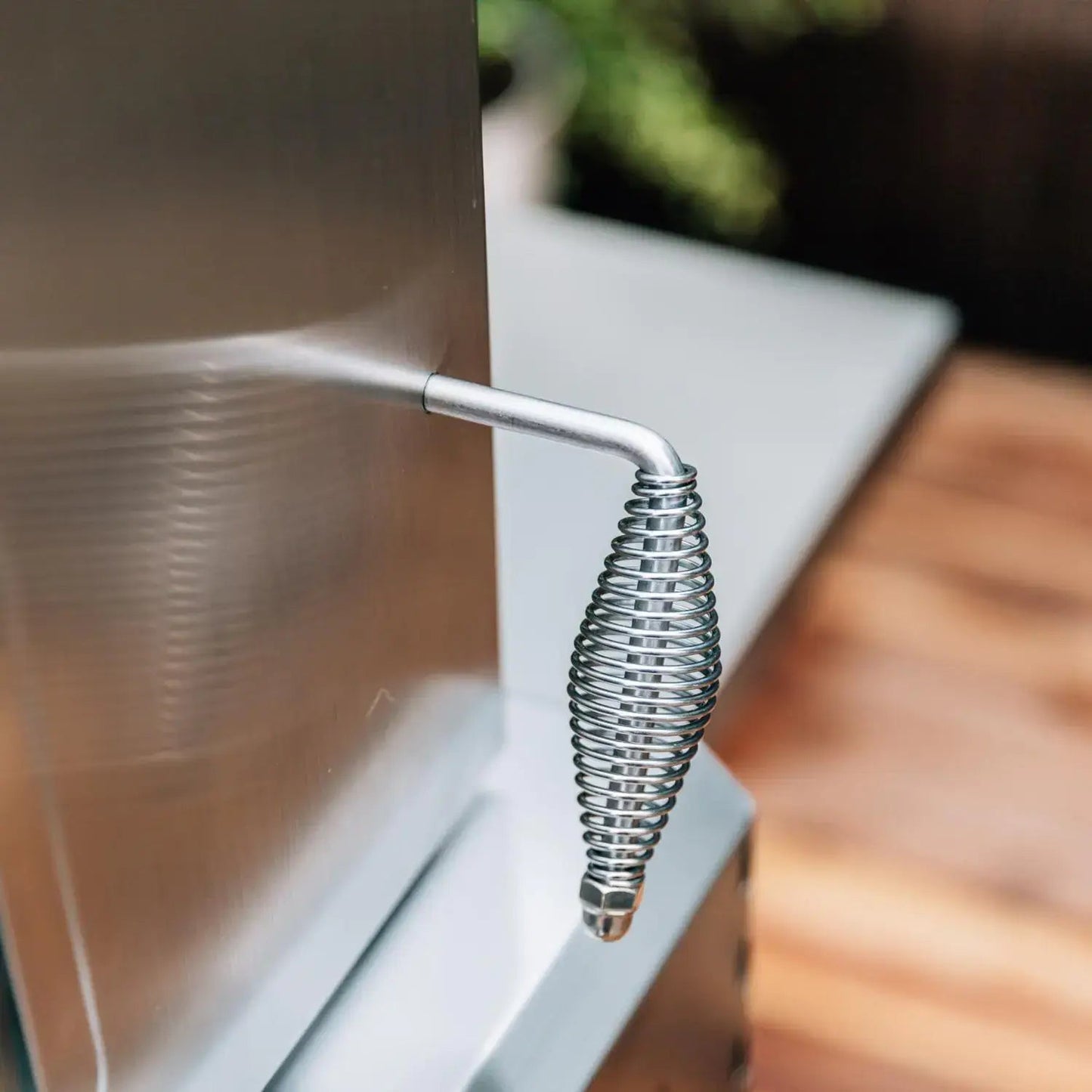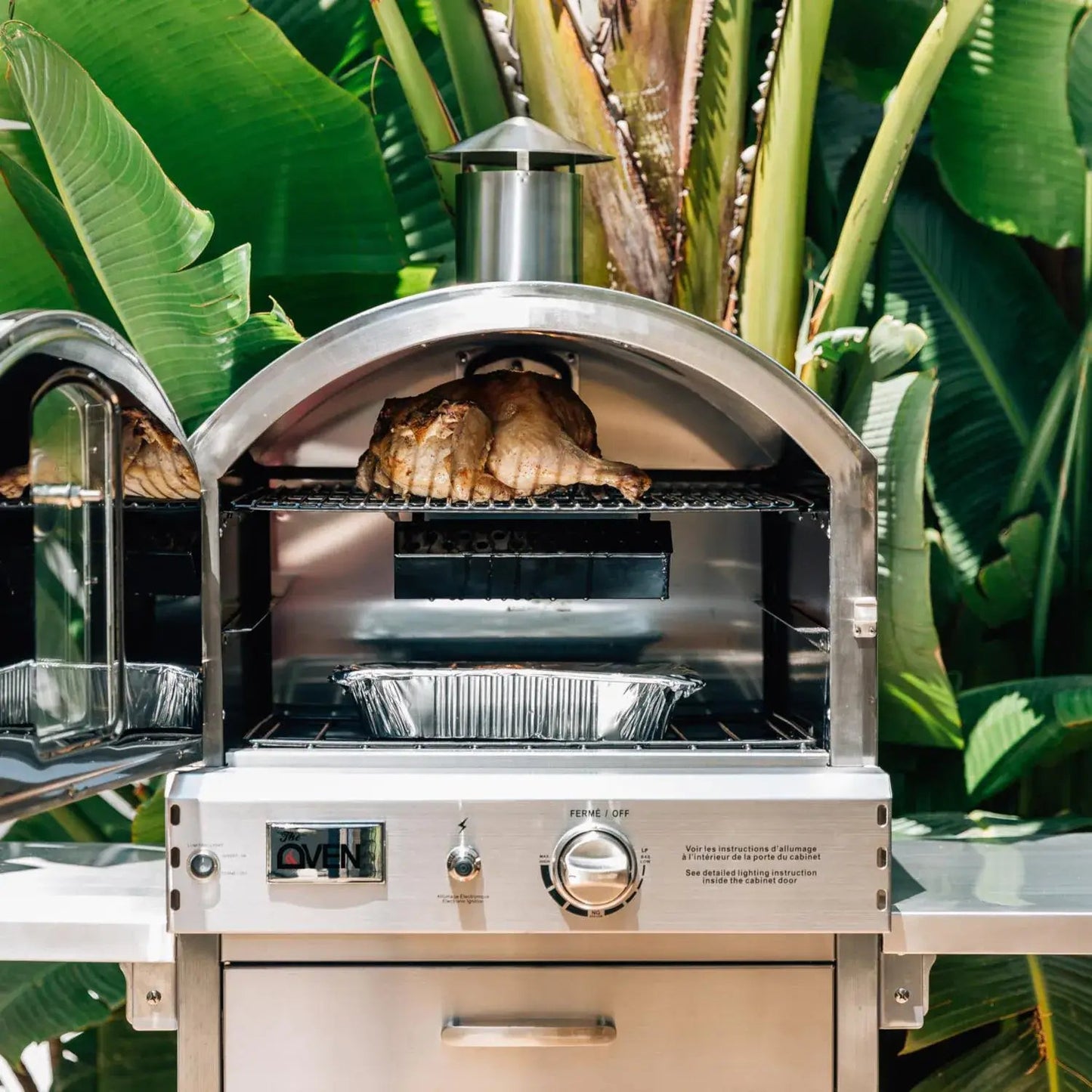 Pizza Oven FAQs
How are your pizza ovens shipped?

Our pizza oven accessories & the small portable pizza ovens are shipped via UPS or FedEx and will be delivered directly to your doorstep.

However, most of our pizza ovens are shipped via freight, and we include the cost of a lift gate (the platform that lowers your oven down to the curb) upon delivery. If your pizza oven is shipped via freight the shipping service company will call you in advance to schedule your delivery, so make sure to provide your best daytime phone number with your order info within checkout.

Keep in mind that freight delivery drivers are not required to move your package into your garage or backyard, so you will need to open the package up on your curb or driveway and carry all of the components to where you plan to store or set up your pizza oven.

We're here to help, so contact us with any questions!
Can I use one of your pizza ovens indoors?

Most of our pizza ovens are specifically made to use outdoors, but some of our commercial pizza ovens are built for indoor use (if they are properly vented to the outside).

Some of our outdoor pizza ovens (like our stone pizza ovens) can also be used indoors if you properly prepare for it. This requires venting to the outside, and also making sure that the surrounding are fire resistant. We recommend clearing this with your insurance provider, especially if you are using a pizza oven inside of your shop or business.
Will my pizza oven strictly cook pizza?

No, you can cook virtually anything you would cook in a traditional oven in your pizza oven. Just keep in mind that the internal cooking temperature of a pizza oven is generally much higher than it is in a traditional (indoors) oven, so adjust cooking times accordingly.
Where can I find good pizza recipes?

Start with our top 100 pizza recipes list, it's an awesome resource for the aspiring pizza cooking chef. That list shows rating, ingredients, instructions, and even tasting notes for all 100 pizza recipes lilsted!