Regular price
$3,075.00
Sale price
$2,089.00
Unit price
per
⇩ MSRP
Sold out
Share this find
This outdoor wood-fired pizza oven is also available in a larger 24x32 version, and there are matching stainless steel carts available for both sizes.
Solé Gourmet™ is headquartered in North Highlands, California, and their Italia line of stainless steel outdoor pizza ovens are handcrafted in their specialty production center in Italy. When it comes to wood-fired pizza ovens you simply won't find better stainless steel pizza ovens than the ones manufactured by Solé Gourmet™. Solé Gourmet™ also manufactures a full line of stainless steel outdoor cabinets and inserts for outdoor kitchen, along with standard BBQ grills and even the Big Green Egg smoker.
About the Solé Gourmet™ Italia 24 Countertop or Built-In Wood-Fired Pizza Oven

The Italia 24 is made exclusively for Solé Gourmet™ in Italy, and is handcrafted by pizza oven expert craftsmen.
Highlights

Heavy-duty solid-weld construction using 3mm stainless steel reinforced with 5mm Corten steel for years of durable, rust-free performance
1/2" of natural rock-spun wool insulation surrounds the cooking chamber to maximize heat retention and cooking efficiency
Ready-to-cook in as little as 15 minutes
Cook directly on Radiant Stone Interior
Innovative design eliminates hot spots & ensures even heat distribution
Optional Cart provides for easy and quick portability
Eco-friendly & Efficient – using significantly less wood than traditional brick ovens
Damper control for maximum heat retention & combustion control
Handcrafted in Italy using the finest, most durable materials
Long-lasting powder-coated, electro-galvanized metals, provide superb protection against corrosion
4-Year Warranty on Dome (2-Year Warranty on all other parts)
Product Resources
Detailed Specifications
Weight: 240 lbs
Outer Dimensions: 33.25"D × 30.75"W × 45.6"H
Fuel Type: Wood-Fired
Internal Cooking Space: 24"D x 24"W (14" H) - 576 Square Inches
Installation Type: Countertop or Build-in (optional makes it freestanding)
Finish: Stainless Steel
Manufacturer's Description
Solé Gourmet™ Italia Wood-fired Ovens are built by master craftsmen from the finest, most solid materials and are unique in their ability to achieve brick-oven temperatures in a short timeframe. Where other wood-fired ovens require hours of preheat time, the Italia heat up in minutes. Italia Ovens are also fuel efficient, using one-fifth of the fuel of other ovens while producing less smoke. A Solé Gourmet™ Italia wood-fired oven is the perfect solution for cooking the most delicious, crisp and flavorful pizzas, roasted meats and vegetables, crusty artisan breads, and delicious casseroles in your backyard.

The Solé Gourmet™ Italia is offered in two sizes and a variety of configuration options making it perfect for a variety of backyard applications. When combined with a stainless steel cart the Italia can be freestanding and moveable for anywhere placement and use or the Italia can be built into a custom island or placed on a counter top with the use of rubber feet.
View full details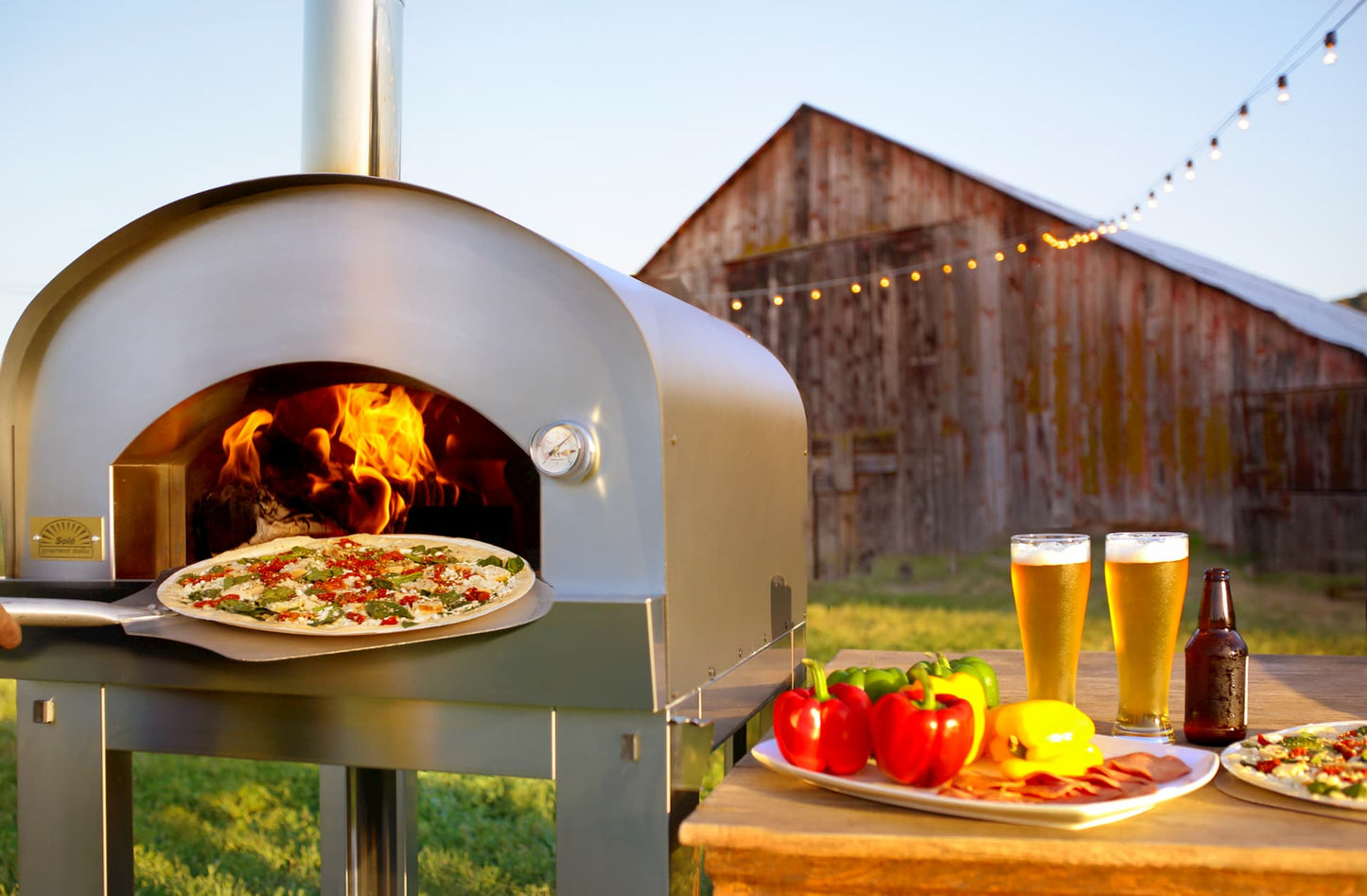 Pizza Oven FAQs
How are your pizza ovens shipped?

Our pizza oven accessories & the small portable pizza ovens are shipped via UPS or FedEx and will be delivered directly to your doorstep.

However, most of our pizza ovens are shipped via freight, and we include the cost of a lift gate (the platform that lowers your oven down to the curb) upon delivery. If your pizza oven is shipped via freight the shipping service company will call you in advance to schedule your delivery, so make sure to provide your best daytime phone number with your order info within checkout.

Keep in mind that freight delivery drivers are not required to move your package into your garage or backyard, so you will need to open the package up on your curb or driveway and carry all of the components to where you plan to store or set up your pizza oven.

We're here to help, so contact us with any questions!
Can I use one of your pizza ovens indoors?

Most of our pizza ovens are specifically made to use outdoors, but some of our commercial pizza ovens are built for indoor use (if they are properly vented to the outside).

Some of our outdoor pizza ovens (like our stone pizza ovens) can also be used indoors if you properly prepare for it. This requires venting to the outside, and also making sure that the surrounding are fire resistant. We recommend clearing this with your insurance provider, especially if you are using a pizza oven inside of your shop or business.
Will my pizza oven strictly cook pizza?

No, you can cook virtually anything you would cook in a traditional oven in your pizza oven. Just keep in mind that the internal cooking temperature of a pizza oven is generally much higher than it is in a traditional (indoors) oven, so adjust cooking times accordingly.
Where can I find good pizza recipes?

Start with our top 100 pizza recipes list, it's an awesome resource for the aspiring pizza cooking chef. That list shows rating, ingredients, instructions, and even tasting notes for all 100 pizza recipes lilsted!