Regular price
$54.99
Sale price
$49.99
Unit price
per
⇩ MSRP
Sold out
Share this find
HALO™ VERSA 16 Pizza Oven Cover
The HALO™ Versa 16 Pizza Oven Cover was designed specifically for the HALO™ Versa 16 pizza oven, and is perfectly form-fitted for it. The Versa 16 boasts a meticulously crafted, weather-proof cover tailored for a perfect fit. Constructed from PVC-Coated 600×300 denier polyester and Hex-thread polyester fabrics, this cover ensures durability with a UV stability rating of 4. Featuring strategically placed plastic panels, it safeguards your oven between uses while offering effortless folding for convenient storage. Hang it up when not in use for added versatility. The thoughtful design extends to a handy side pocket, ideal for accommodating a 1 lb propane gas container, streamlining your on-the-go trips. Elevate your innovative oven with top-notch materials, a distinctive design, and premium protection.
Versa 16 Key Specifications
Made of PVC-Coated 600×300 Denier Polyester
Contains Hex-Thread Polyester Fabrics
UV Stability Rating of 4
Side pocket that fits a 1lb LP Gas Container
Folds and Hangs
About The Manufacturer
HALO™ is one of the most innovative, and up-and-coming outdoor oven manufacturers in the United States today! Headquartered in Kentucky, they are developing some of the most cutting edge outdoor appliances on the market - from pizza ovens to BBQ grills and pellet smokers!
HALO™ 5-Year Warranty
Effort and pride goes into every product that earns the Halo badge. Consumers should REGISTER MY HALO via QR Codes or on halo-pg.com upon receipt to activate a 5-year warranty. Should any order arrive with missing, defective, or damaged parts, please immediately contact Halo Consumer Services at 833-572-1688. See the manufacturer's manual (linked above) for full warranty details.
View full details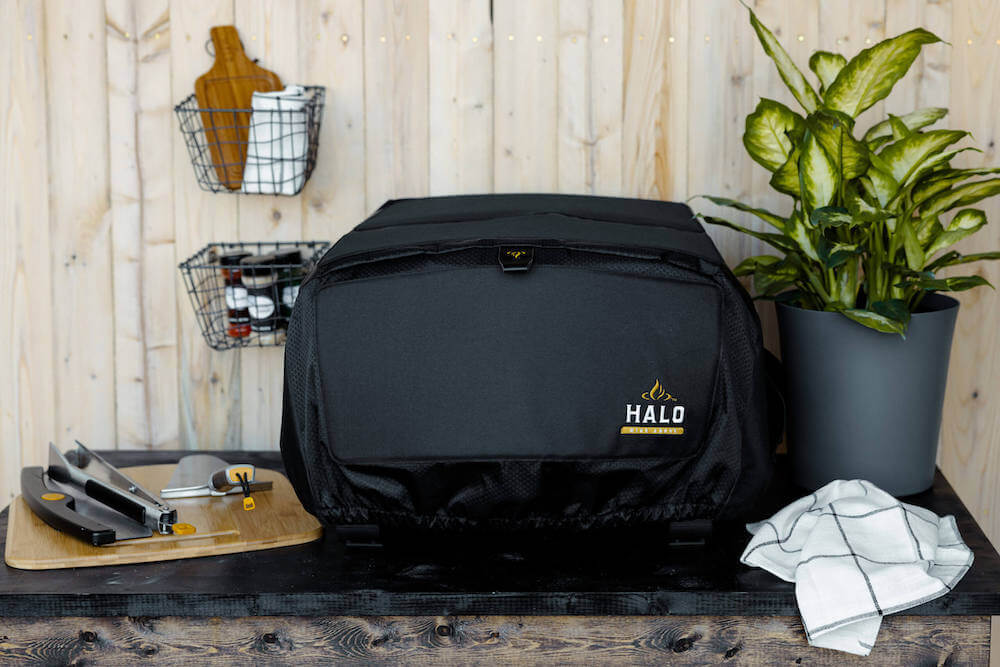 Pizza Oven FAQs
How are your pizza ovens shipped?

Our pizza oven accessories & the small portable pizza ovens are shipped via UPS or FedEx and will be delivered directly to your doorstep.

However, most of our pizza ovens are shipped via freight, and we include the cost of a lift gate (the platform that lowers your oven down to the curb) upon delivery. If your pizza oven is shipped via freight the shipping service company will call you in advance to schedule your delivery, so make sure to provide your best daytime phone number with your order info within checkout.

Keep in mind that freight delivery drivers are not required to move your package into your garage or backyard, so you will need to open the package up on your curb or driveway and carry all of the components to where you plan to store or set up your pizza oven.

We're here to help, so contact us with any questions!
Can I use one of your pizza ovens indoors?

Most of our pizza ovens are specifically made to use outdoors, but some of our commercial pizza ovens are built for indoor use (if they are properly vented to the outside).

Some of our outdoor pizza ovens (like our stone pizza ovens) can also be used indoors if you properly prepare for it. This requires venting to the outside, and also making sure that the surrounding are fire resistant. We recommend clearing this with your insurance provider, especially if you are using a pizza oven inside of your shop or business.
Will my pizza oven strictly cook pizza?

No, you can cook virtually anything you would cook in a traditional oven in your pizza oven. Just keep in mind that the internal cooking temperature of a pizza oven is generally much higher than it is in a traditional (indoors) oven, so adjust cooking times accordingly.
Where can I find good pizza recipes?

Start with our top 100 pizza recipes list, it's an awesome resource for the aspiring pizza cooking chef. That list shows rating, ingredients, instructions, and even tasting notes for all 100 pizza recipes lilsted!