Regular price
$2,399.00
Sale price
$2,199.00
Unit price
per
⇩ MSRP
Sold out
Share this find
LIMITED TIME PROMOTION!
No coupon code needed, just order by 8/31/23 and get the lowest price of the year and a free ALFA™ CIAO Cover!
The ALFA™ CIAO Wood-Burning Pizza Oven
The ALFA™ CIAO wood-fired pizza oven is available in Silver/Gray or Yellow/Gray finish and can be placed on any countertop, the ALFA™ prep table, or can even be converted into a freestanding pizza oven by adding the leg kit. It is also recommended that you get a cover for your CIAO to protect it from the elements and maximize its life span.
Key Specifications
Heating time: 10-20 minutes
Recommended fuel: Wood or lump charcoal
Max oven temperature: 1,000° F
Chimney dimensions: 5.9"
Cooking Floor W x D: 27.6" x 15.7"
Cooking Floor Height: 35"
Oven Mouth width: 19.7"
Weight: Top only 176 lbs
Installation type: Countertop, ALFA™ prep table, or freestanding leg kit
Product Resources
ALFA™ Pizza Oven Highlights
Compact design reaches cooking temperatures in 10 minutes and bakes pizza in 90 seconds
Patented Heat Genius™ technology allows you to reach desired cooking temperatures with minimal fuel
Specially shaped dome effectively retains heat and cooks pizza evenly
Minimal assembly & no curing required before use
Designed for countertop use and can sit on any non-combustible surface like the  ALFA™ prep table or can become freestanding with the optional leg kit
Includes oven, manual, a wood holder and a mini peel
HeatGenius™ Technology Built In
Download the full HeatGenius™ brochure PDF
About The Manufacturer
ALFA FORNI™ (or ALFA™ Ovens) is headquartered in Anagni, Italy, between Roma & Napoli, in the true birthplace of pizza! Since 1977 they've been family owned and operated, spanning three generations! For the 45+ years ALFA™ has been around they've specialized in wood and gas fired ovens, fireplaces, and refractory bricks, but in recent years they've really set their focus on wood-fired and gas-fired pizza ovens for both residential and commercial applications. Simply put, ALFA™ is the best pizza oven you can put on your back patio!
Fire up the oven 10-15 minutes before dinner.

1000°F in just 10-15 minutes.

Make 250g dough balls 3 hours before. Stretch the balls, top them and bake at 500°C (1000°F).

 

Cook the pizza in 90 seconds.

Cook the pizza in 90 seconds by turning it a couple of times to make it brown evenly.

Take the pizza out of the oven, cut it and tuck it in! You're the great pizza chef!
ALFA™ CIAO Demo Video
ALFA™ Ovens Warranty Summary
ALFA™ ovens are covered by a 2-year parts warranty against defects in manufacturing, effective from the original date of purchase and applicable for properly installed and maintained ovens. Excludes ovens used for commercial purposes. Labor is not included. See to manufacturer's manual (linked in description above) for full warranty details.
View full details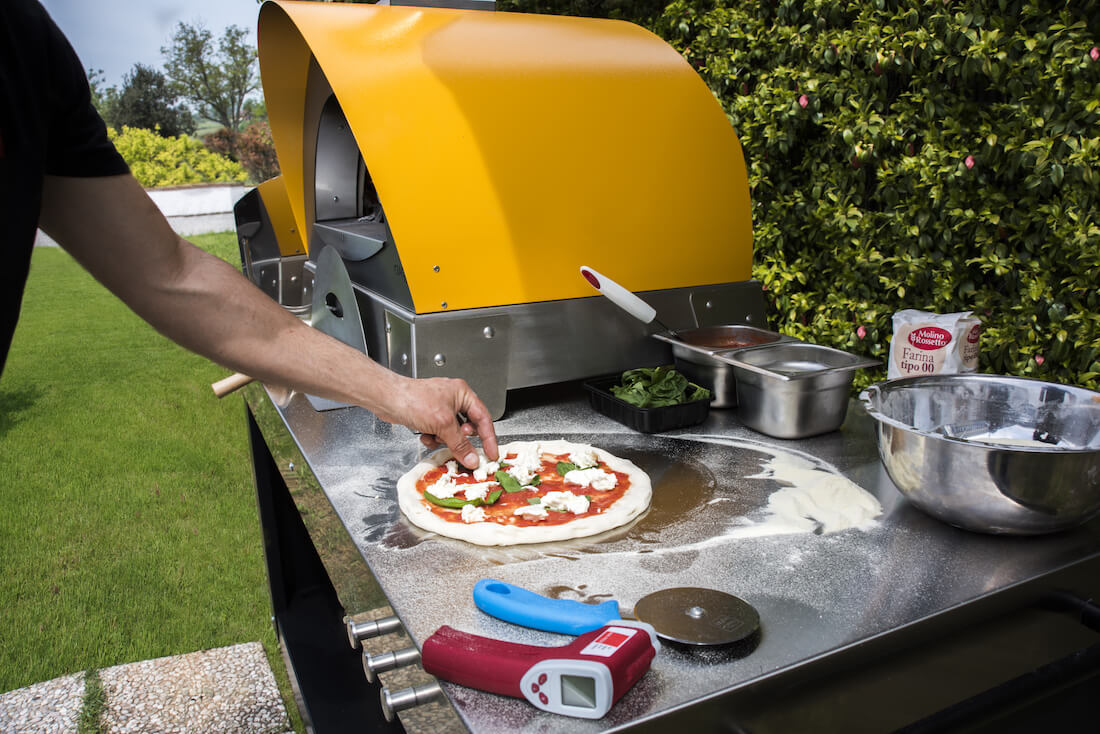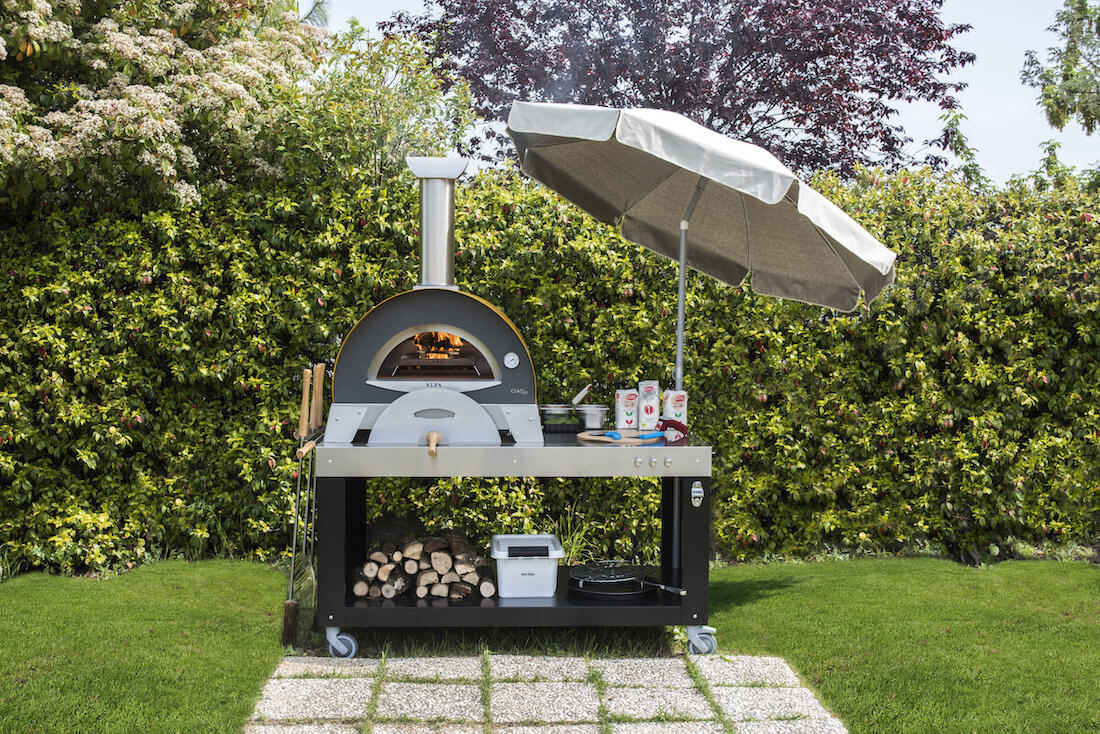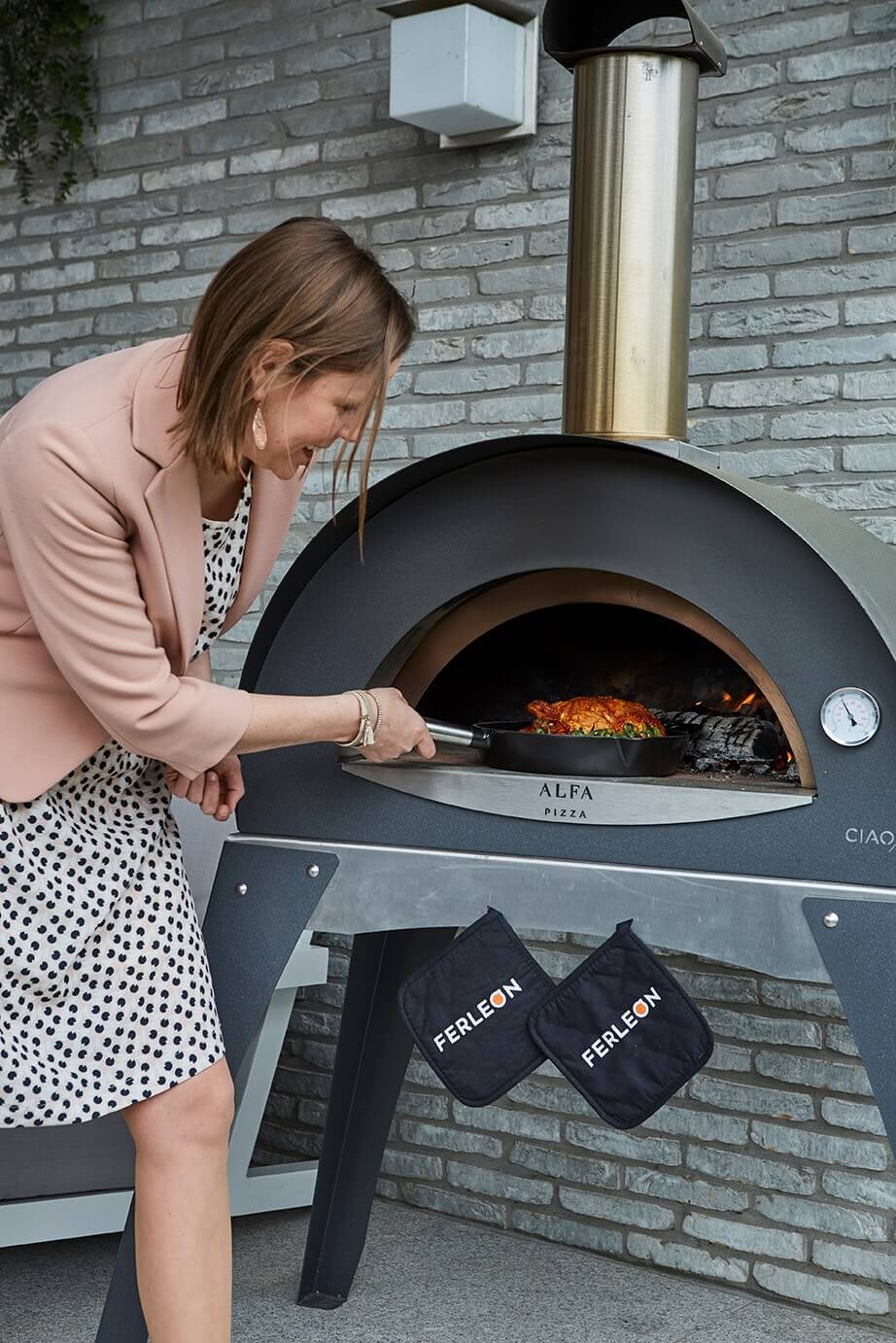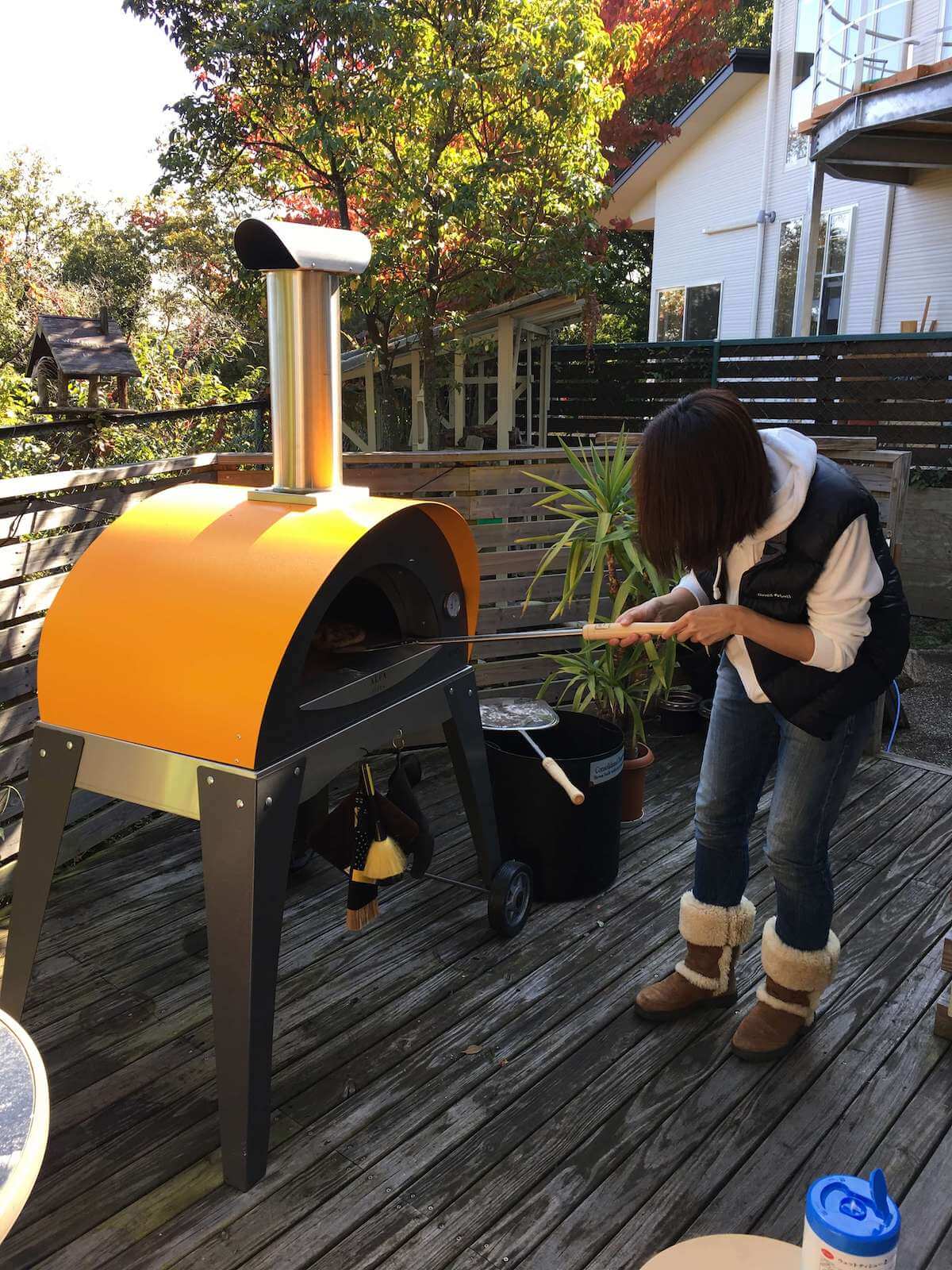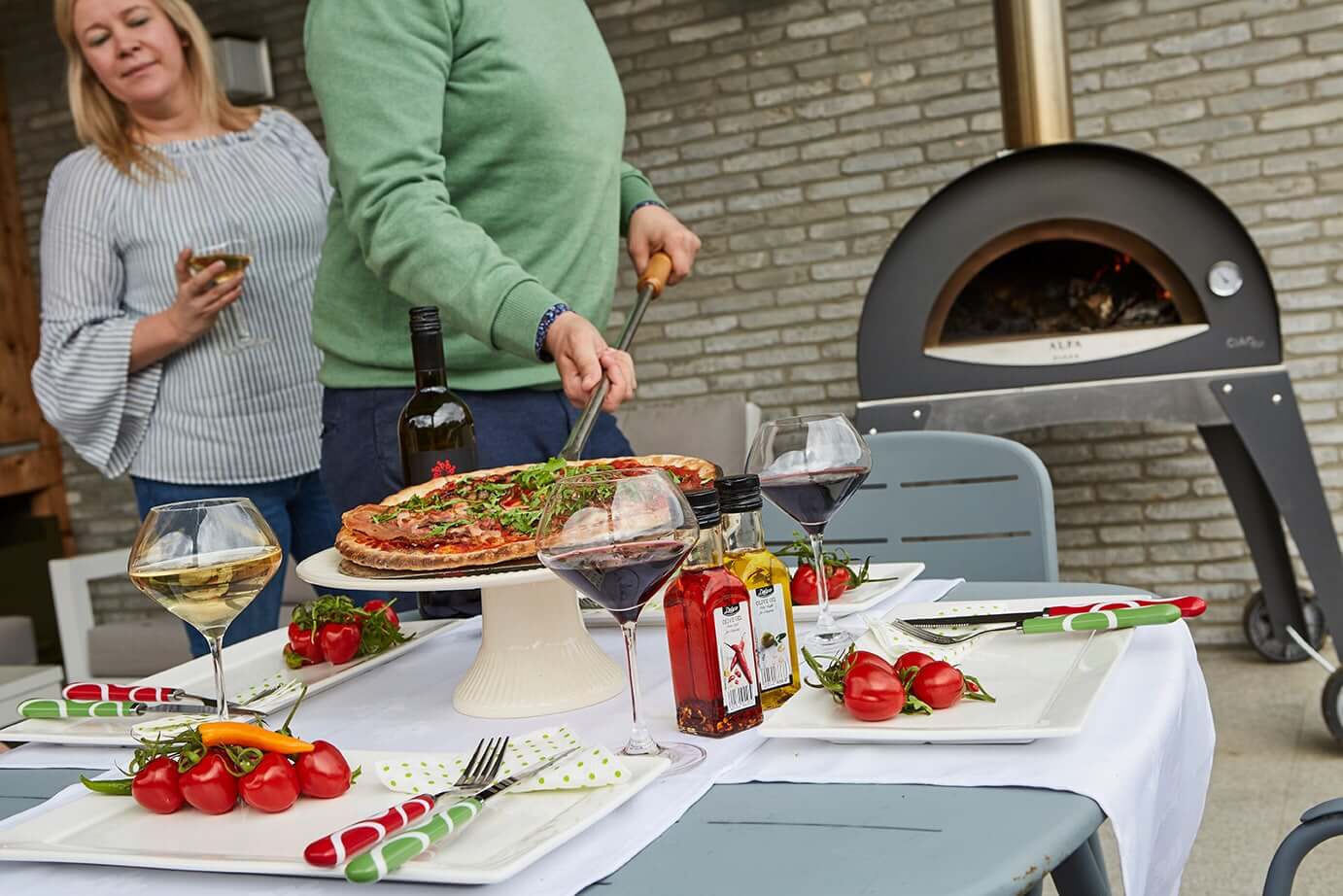 ALFA Ciao (older version)
Mine is an older model Ciao, but I don't think the 'guts' have changed. FANTASTIC pizza every time and you simply won't go wrong w/ ALFA FORNI ovens!
Alfa delivers again
I've had an Alfa ONE for years and love it, but now I have a CIAO and love it even more! I bought the CIAO for our cabin but swapped it with the ONE at our home because it's more fun to cook on!! :)
Pizza Oven FAQs
How are your pizza ovens shipped?

Our pizza oven accessories & the small portable pizza ovens are shipped via UPS or FedEx and will be delivered directly to your doorstep.

However, most of our pizza ovens are shipped via freight, and we include the cost of a lift gate (the platform that lowers your oven down to the curb) upon delivery. If your pizza oven is shipped via freight the shipping service company will call you in advance to schedule your delivery, so make sure to provide your best daytime phone number with your order info within checkout.

Keep in mind that freight delivery drivers are not required to move your package into your garage or backyard, so you will need to open the package up on your curb or driveway and carry all of the components to where you plan to store or set up your pizza oven.

We're here to help, so contact us with any questions!
Can I use one of your pizza ovens indoors?

Most of our pizza ovens are specifically made to use outdoors, but some of our commercial pizza ovens are built for indoor use (if they are properly vented to the outside).

Some of our outdoor pizza ovens (like our stone pizza ovens) can also be used indoors if you properly prepare for it. This requires venting to the outside, and also making sure that the surrounding are fire resistant. We recommend clearing this with your insurance provider, especially if you are using a pizza oven inside of your shop or business.
Will my pizza oven strictly cook pizza?

No, you can cook virtually anything you would cook in a traditional oven in your pizza oven. Just keep in mind that the internal cooking temperature of a pizza oven is generally much higher than it is in a traditional (indoors) oven, so adjust cooking times accordingly.
Where can I find good pizza recipes?

Start with our top 100 pizza recipes list, it's an awesome resource for the aspiring pizza cooking chef. That list shows rating, ingredients, instructions, and even tasting notes for all 100 pizza recipes lilsted!